Project Summary
Carousell is a classifieds app that launched in 2012 on iOS and Android. Subcategories were a highly demanded request since day one. With more than 35 million listings, it was becoming necessary to have a way to narrow down browsing from the broader categories. After an analysis of the taxonomy at that time, new categories were proposed together with subcategories, and designs were made for the list and browse flows on iOS, Android, and Web.
Subcategories were released in August of 2016.
My Role
I was working as both product designer and product manager in 2016, leading the core marketplace team. I was responsible for engaging with stakeholders, prioritizing, user research and surveys, preparing the release plan, copywriting, and designing the UI for iOS, Android, and Web. I worked closely with engineering to understand what needs to be done on the back-end to implement the new feature, and make sure that we had internal tools built to support the new categories.
I left Carousell at the end of June of 2016, and handed off the release plan as well as designs and deliverables to the incoming product manager and designer.
The Problem
How can we lessen the time it takes for buyers to reach their 'magic moment'?
The best experience for buyers and sellers are fast transactions. A successful transaction for both parties marks their 'magic moment'. However, the search experience on the platform was very poor and we regularly received complaints about the time it takes to find an item. Some have stopped using Carousell because they no longer find what they want.
Discoverability was a huge problem for the platform. In a study on Findability in e-commerce, they explained how conversion decreases by 7% for every second that a buyer is unable to find a product.
The longer users take to reach their 'magic moment', the greater our churn rate. We wanted to lessen the time buyers can find a listing, which in effect lessens the time it takes for a seller to complete a transaction.
Strategy
The project was broad so in planning the release, I split the plan into 6 parts:
Information Architecture
An analysis of existing categories and suggested structure for new categories and subcategories.
Back-End
Support for the new categories and subcategories were needed and the new structure should not disrupt search and browse in old versions of the app.
Internal Tools
We needed tools for re-categorization and monitoring.
Seeding Tools
We needed to populate new subcategories with current listings.
Product
How the feature works on iOS, Android, and Web.
Release
Support from Community and CX teams, PR, monitoring and data analysis.
Process
Research
I gathered some keywords from feedback on the browse/search experience to illustrate the emotions our customers have on the platform:
Irrelevant
Cluttered
Illogical
Noisy
Frustrating
Hard to Find
Through interviews, I narrowed down search behavior to 3:
Search by item name
Search by item type
Search by brand
I did some studies on the search and browse experience with competitors and e-commerce sites, and proposed that we narrow down user choices by having fewer parent categories together with new subcategories.
Information Architecture
To propose a new taxonomy, I split my process into parts:
Establish business and user requirements
Analyse existing content
Develop IA options
Testing
Develop process for updating IA
I had to ensure that classification was easy to understand, and take into consideration how monetizing will work in future categories. I compared our current categories with other e-commerce sites (in both English and Chinese-speaking markets). Carousell had 27-28 (depending on market) parent categories, compared to other sites that had 12 on average. Some parent categories are too similar that they could fall under a single category, and further split into new subcategories.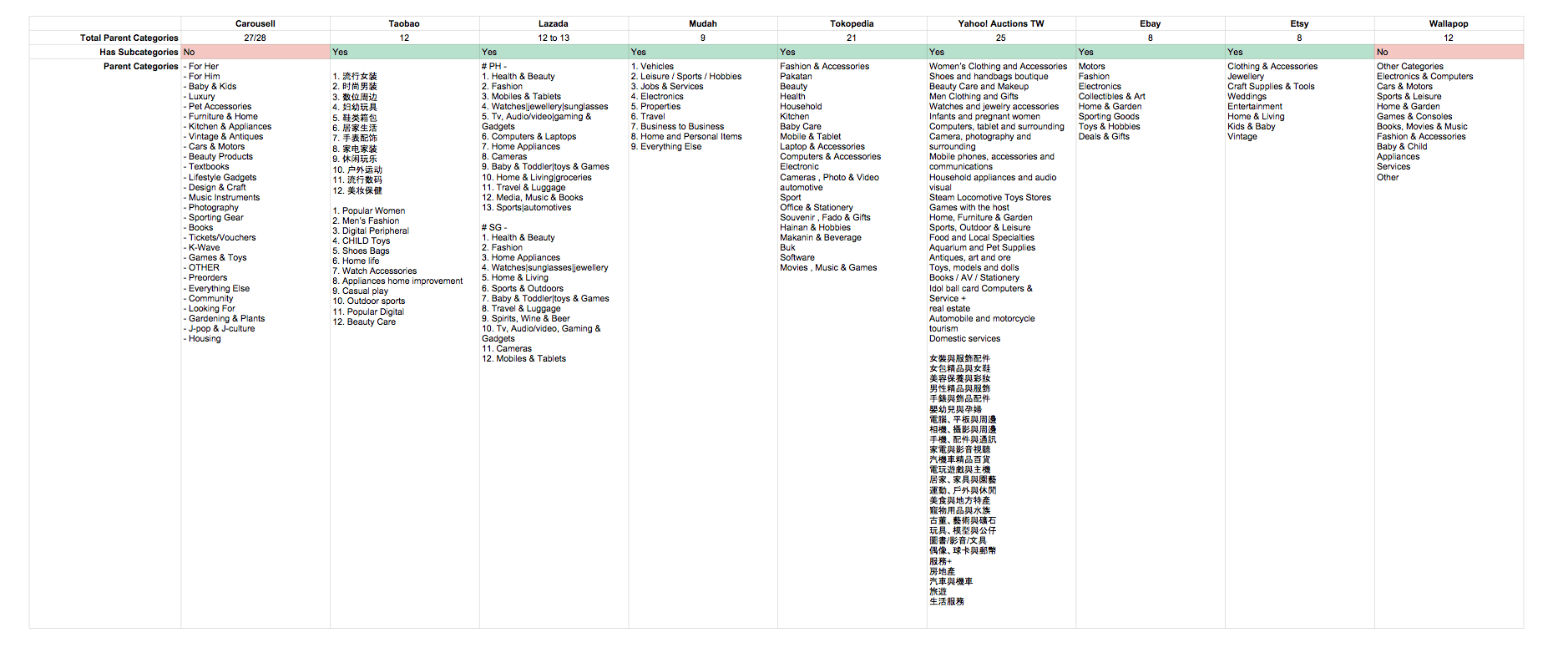 We had to set global categories that could be adjusted or changed per country/market. I used card sorting to test proposed categories and narrowed down the 27 into 18 parent categories. I shared the proposed categories with representatives of different teams, especially country teams who would eventually tweak them to fit their market.
We had to test if the proposed categories would have more than 10k listings. I enlisted the help of an engineer who wrote a python script which I ran to test the proposed categories based on keyword matches with existing listings.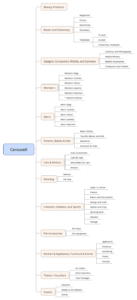 Country leads needed to be able to use the internal tools to manage categories and subcategories for their market, and I worked with the Internal Team and engineers by writing the user stories on managing the categories and subcategories.
Design
New subcategories will be added to the browsing experience and I wanted to make it as easy as possible for the buyer to find what they want. I used three guiding principles in designing for the new subcategories:
Clarity – Navigation follows patterns that we've set for each platform.
Consistency – The brand experience should be consistent across all platforms. Icons or other visual implementations should be similar on all platforms.
Context – The experience should be catered towards a person's context. For example, a mobile experience can be different from a desktop experience if it will improve ease of use due to screen size.
It was important to communicate designs to engineers as fast as possible. I used the existing navigation patterns on the app to incorporate the new categories and prototyped ideas with Pixate. Various UI options were tested internally with members of external teams as participants. After finalizing the UI for iOS, I adapted the design for Android and Web following the patterns for each individual platform.
Final designs were documented with user stories and shared with the engineers.
Navigation from the Filter Bar 
The main challenge was to fit dense information into a list without confusing people from switching too many screens. I've explored other navigation options before reaching the final approach.
An Idea Explored: Revealing subcategories in a separate screen, instead of a new screen.

Final Approach: Designing subcategories as 'pills' beneath the parent category.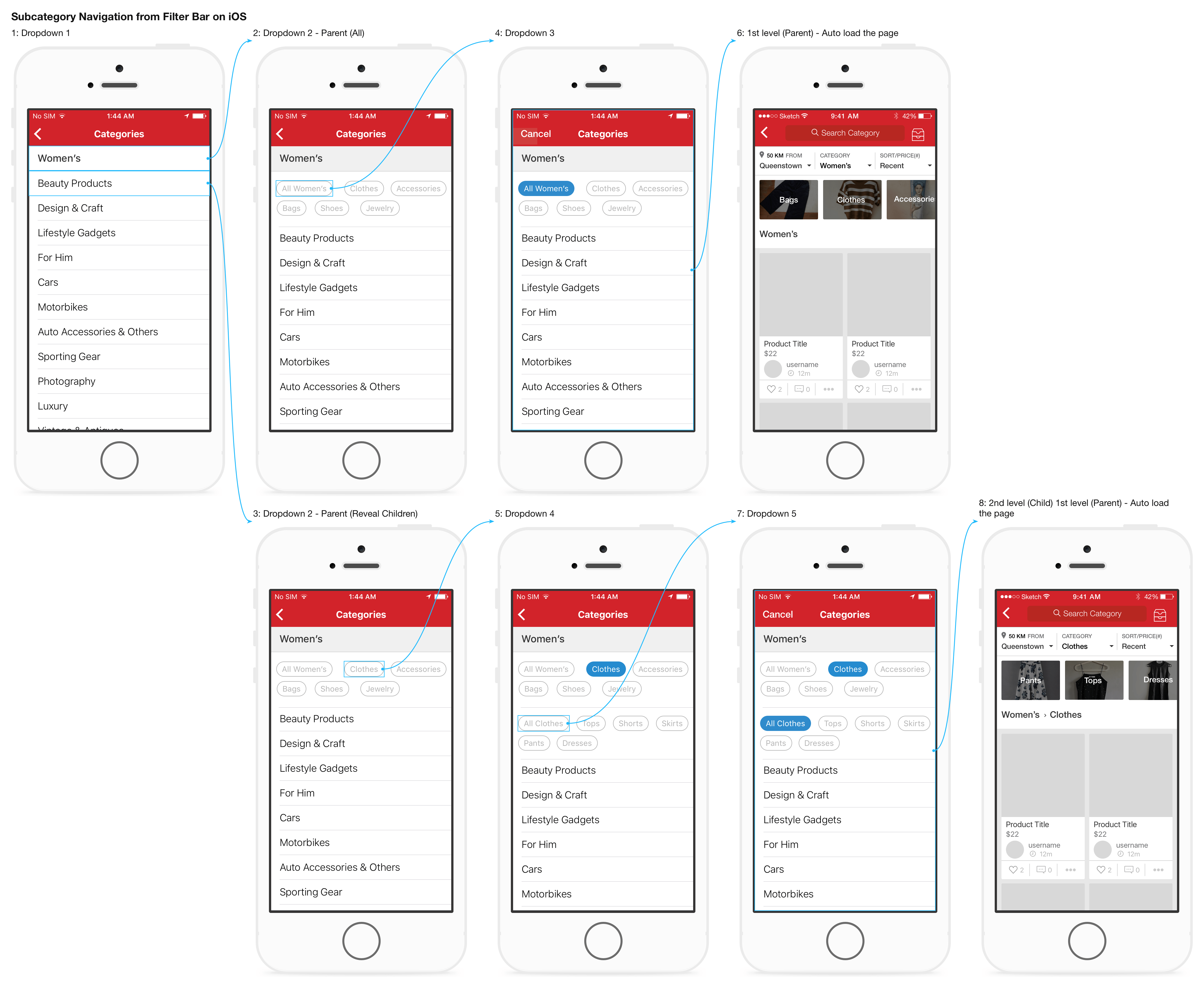 Navigation from Category Pages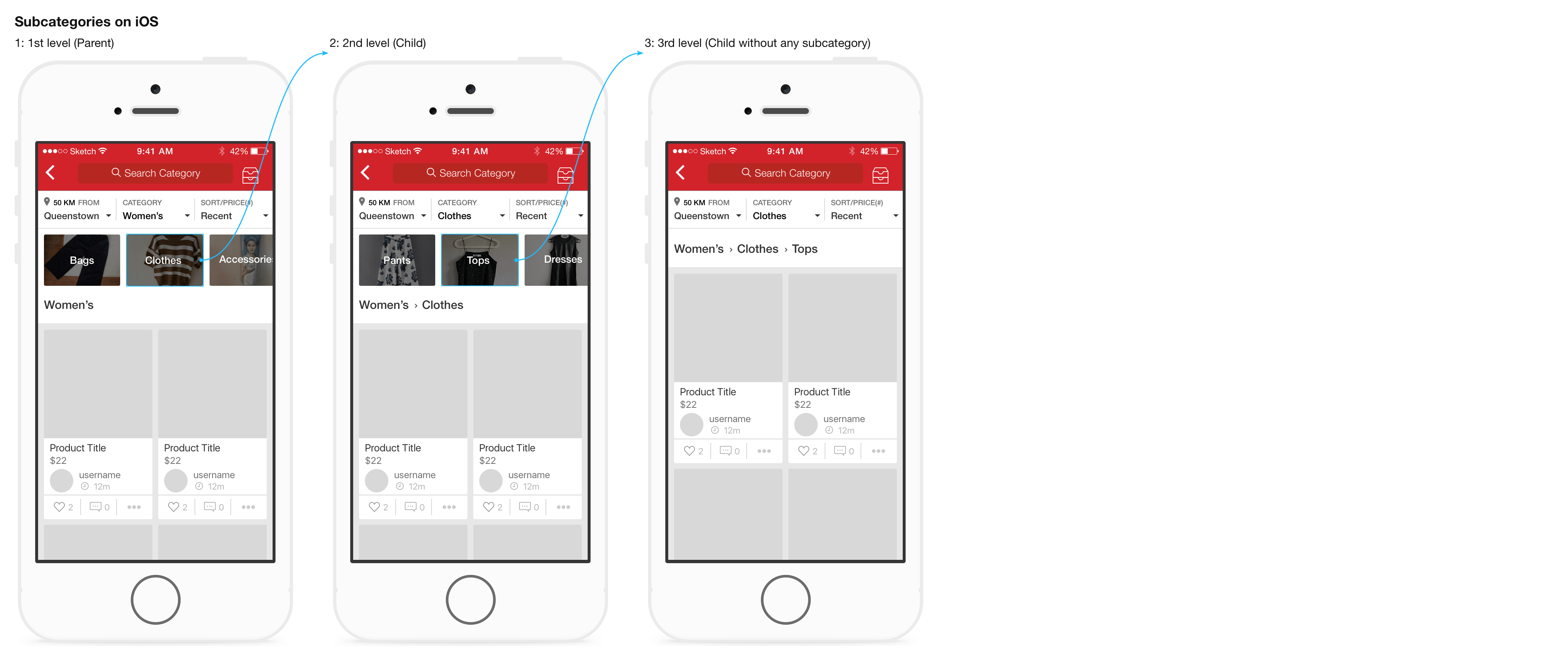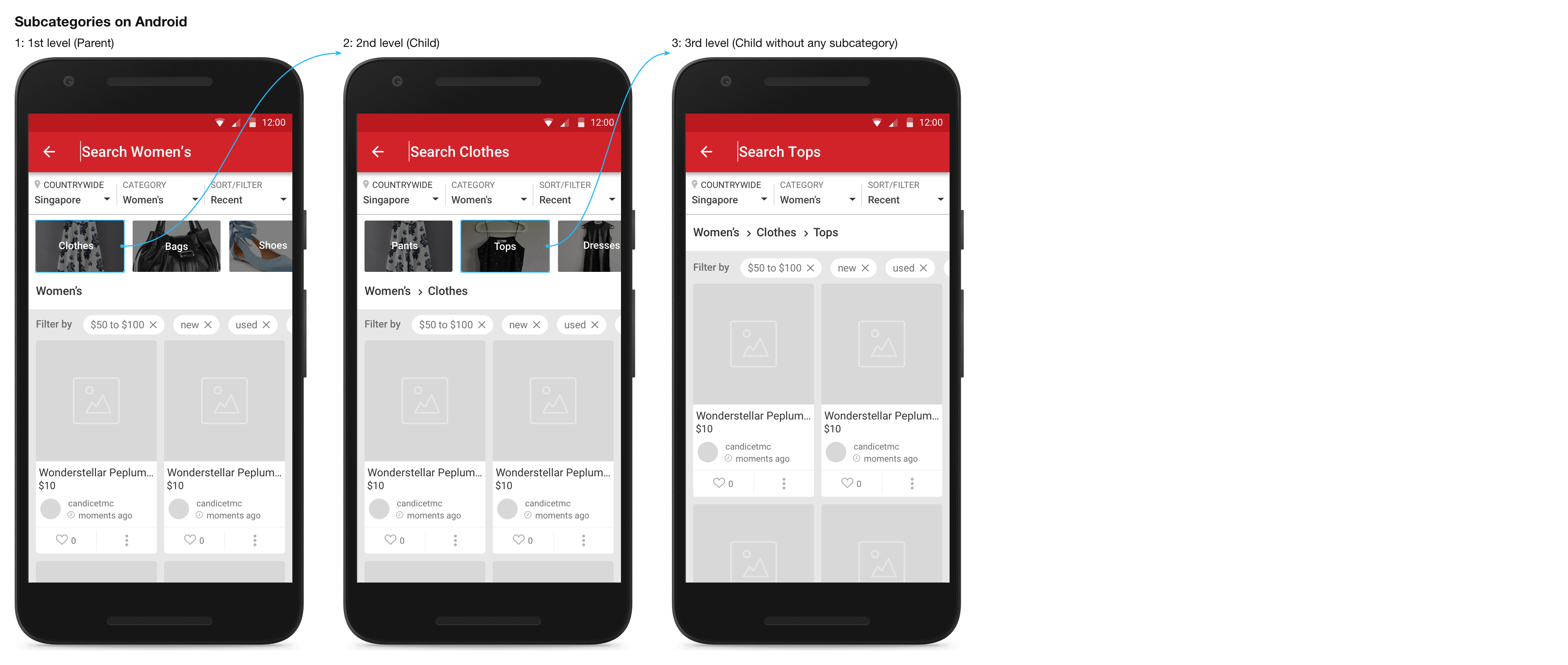 Web – Desktop and Mobile
Some navigation patterns were kept similar to the mobile version, such as filtering by category.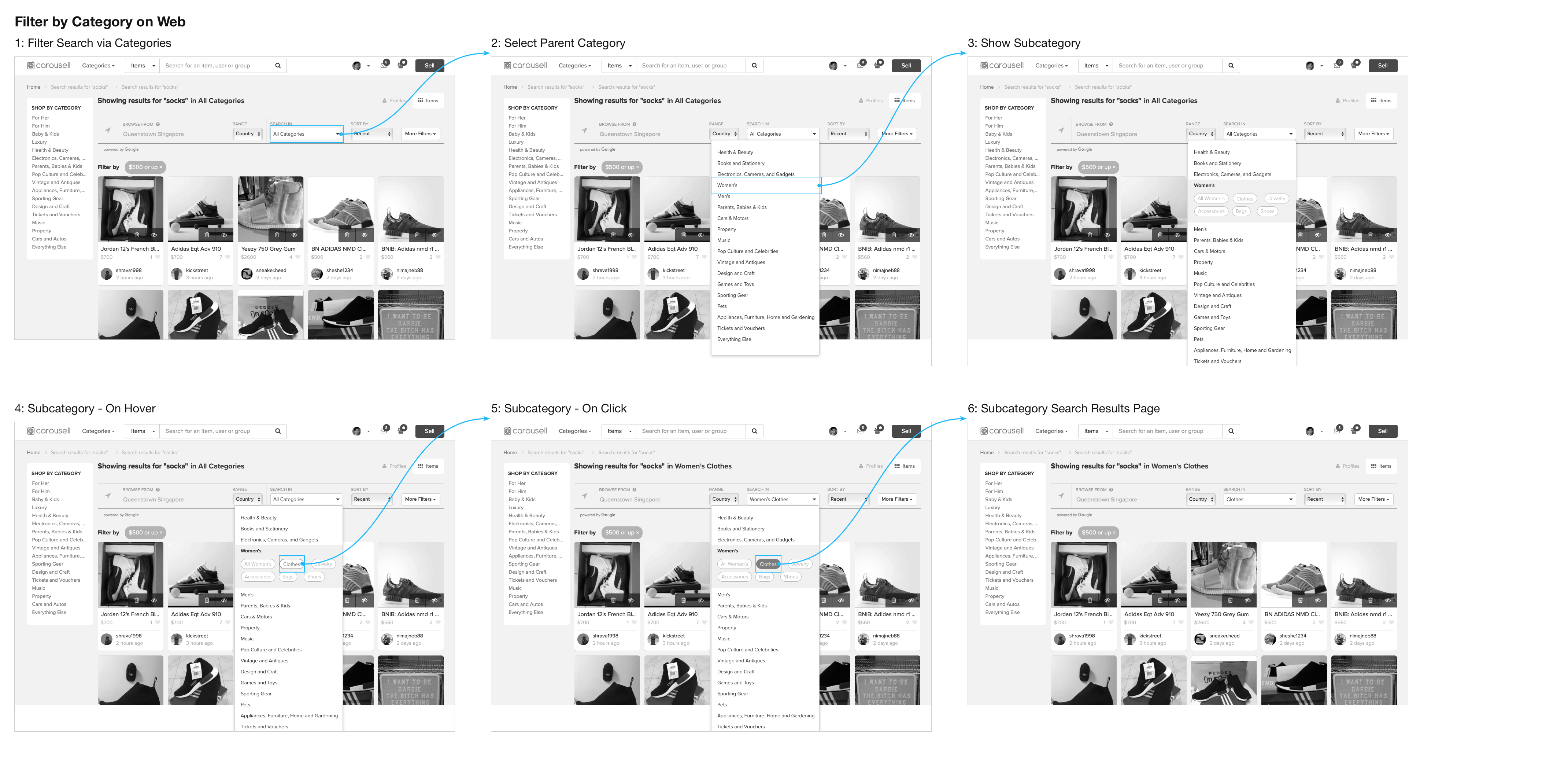 Other experiences are better differentiated on mobile web from desktop web.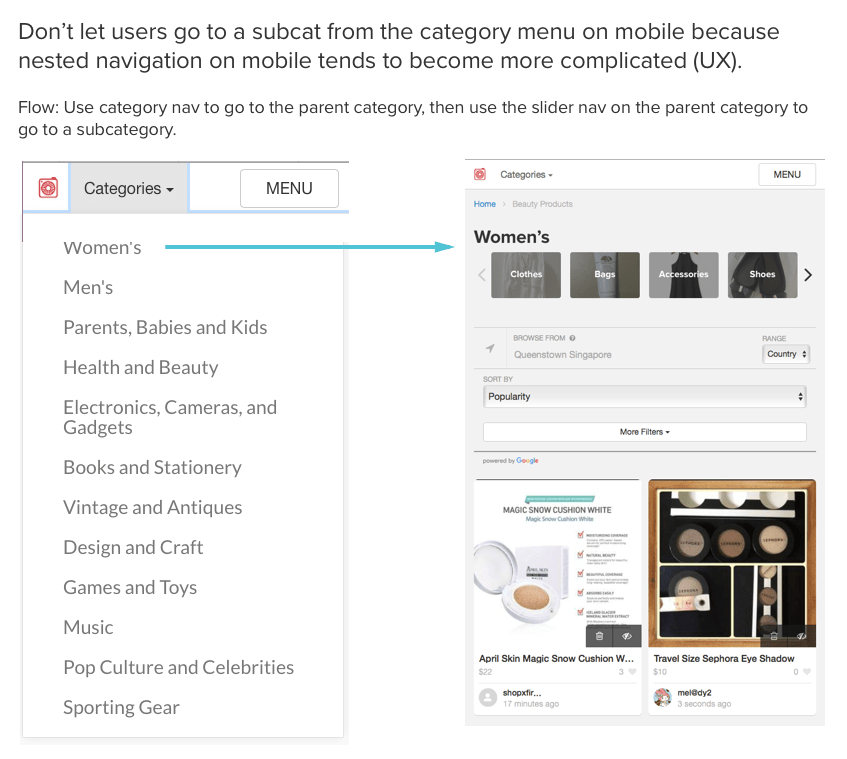 Launch
I handed over the project to the new designer and product manager, and there were a few UI tweaks made but the UI upon release was similar to what I had proposed. I left the team two months before the feature was launched, thus I had no access to the results of the feature. The proposed IA was not implemented, but the feature was released in August 2016. In 2017, the categories grew to 34 parent categories.