Project Summary
Carousell saw a small number of communities form around niche items on the platform (usually based on hobbies or collections). We launched Carousell Groups to as an expansion of the Campus Marketplace to engage interest groups. It was an extensive feature that required new user flows and a separate subsection on the app. The feature had very low adoption rates, but it was a massive project from which I learned a lot.
My Role
I was part of the product team, which was lead by the product owner and a product manager. I collaborated with the product team for the designs and copywriting, and worked closely with engineering on as we went through iterations as part of an agile process. I was responsible for user flows, wireframes, UI design for iOS, Android and Web, including asset hand-off.
The Problem
How can we encourage communities to form organically and stay engaged within the platform?
Community was very important for the product. We held community events in some countries in order to connect with our audience. In the conversations from our meet-ups, we heard and observed the niche groups that have been forming after people started chatting with each other on Carousell. We saw an opportunity to engage more people from these smaller groups and encourage others to connect with like-minded buyers and sellers.
Strategy
Prior to the creation of Groups, Carousell already had smaller walled gardens called "Campus Marketplace". Students from universities can only list in that group, and there was a verification process using university emails. There were also exclusive buy and sell groups in other platforms and by engaging an admin of a buy and sell group in a social network, the team tried to understand the appeal of these walled gardens.
Carousell Groups had 3 objectives:
Increase discoverability of listings.
Increase engagement on Carousell.
Increase trust within the community.
The old architecture was tailored specifically for campus groups, and to achieve the objects the project became more complex. It was originally split into 3 different phases, the first being 'Discovering and Joining Groups'.
Process
Designing for Communities
Before I started designing for the feature, I wanted to understand what it meant to design for communities. Andrew Chen warned about a "designed product, but undesigned community". I compared products with curated communities: some qualities of online communities were:
Members were curated or vetted and some groups were made private (invite-only).
Select members are highly empowered by being in a position of admin or moderator.
Consistent quality is maintained by implementation of community rules and guidelines.
Communities are difficult to monitor, especially when they grow exponentially in size. A number of factors can affect how a community grows, reacts, or is managed. The challenge in evidence-based social design was that, as a designer I could not have complete control over how people behave or participate in shaping these communities. How would the team balance the actions people can take on the platform, and how fast could we react to user behavior upon release? The experience of being part of a community was going to be affected by the members we curate (or do not curate). Some measures were put in place at the start (limited groups, public vs private, user interest and ratings, etc.) but the risk of spam would not be easily resolved.
Internal Collaboration
Because the feature will affect various internal teams (Community, CX, Marketplace Quality) it was important to engage them in early conversations. Meetings were organized by the product owner and concerns and feedback were discussed. Spam was one of their major concerns, but we would need tools that had to be built from ground up to prevent them. I still designed for some issues raised by the other teams but not all of them were going to be built upon release.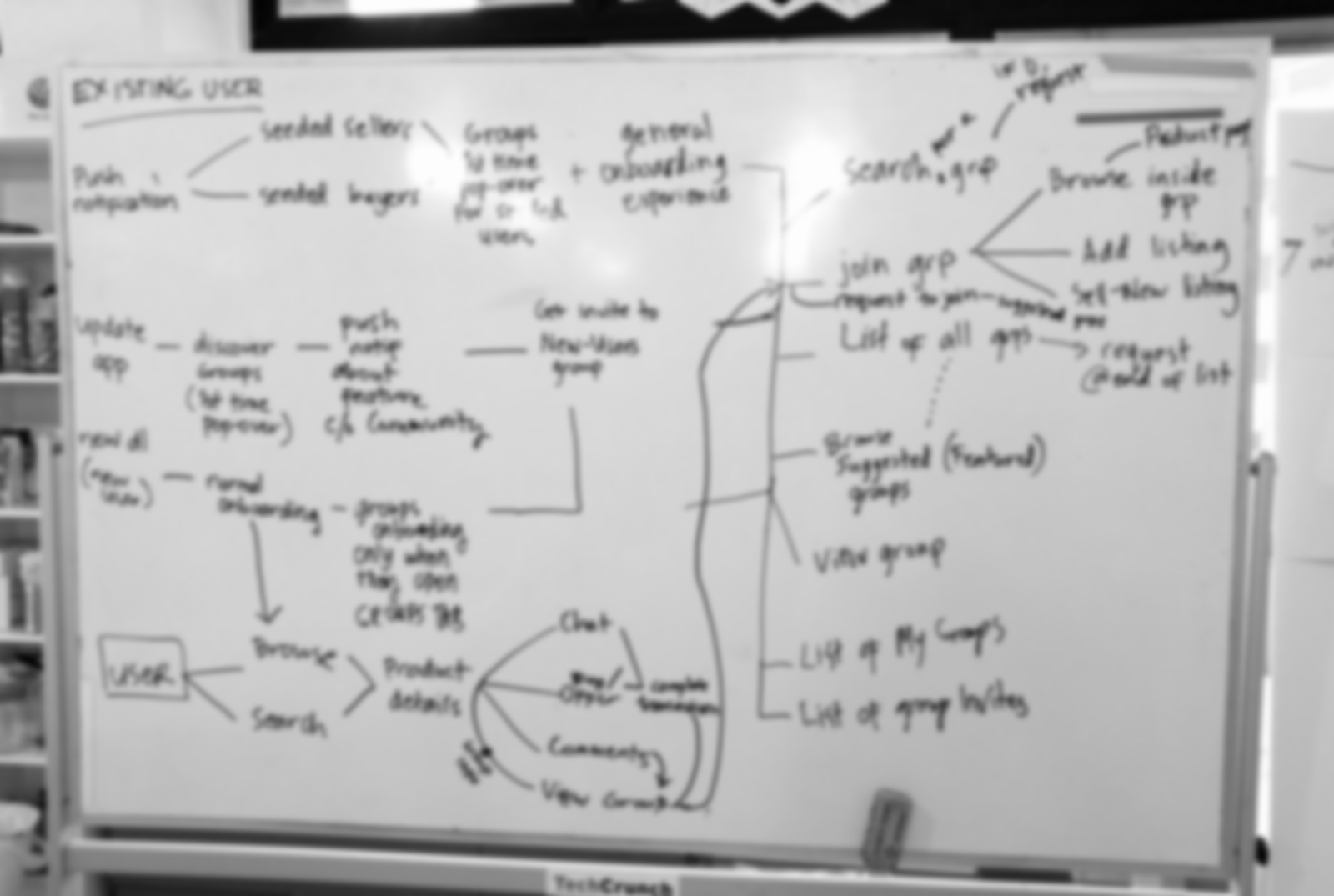 Principles
Working with the team, we outlined our guiding principles for the project:
Hyper local
Community at the center
Your buyer/seller can be a stranger today but your friend tomorrow
Connections through Interests
The push for community was integral for the app that we had dedicated a tab on mobile just for the Groups feature.
Design Process
On the earlier planning stages, I engaged the stakeholders (co-founders, product owner and product manager) in a co-design session. We wrote user in a whiteboard and designed some UI ideas. I also did a competitive analysis on apps with communities, studying how they onboarded users into their communities, how the curate and keep people engaged.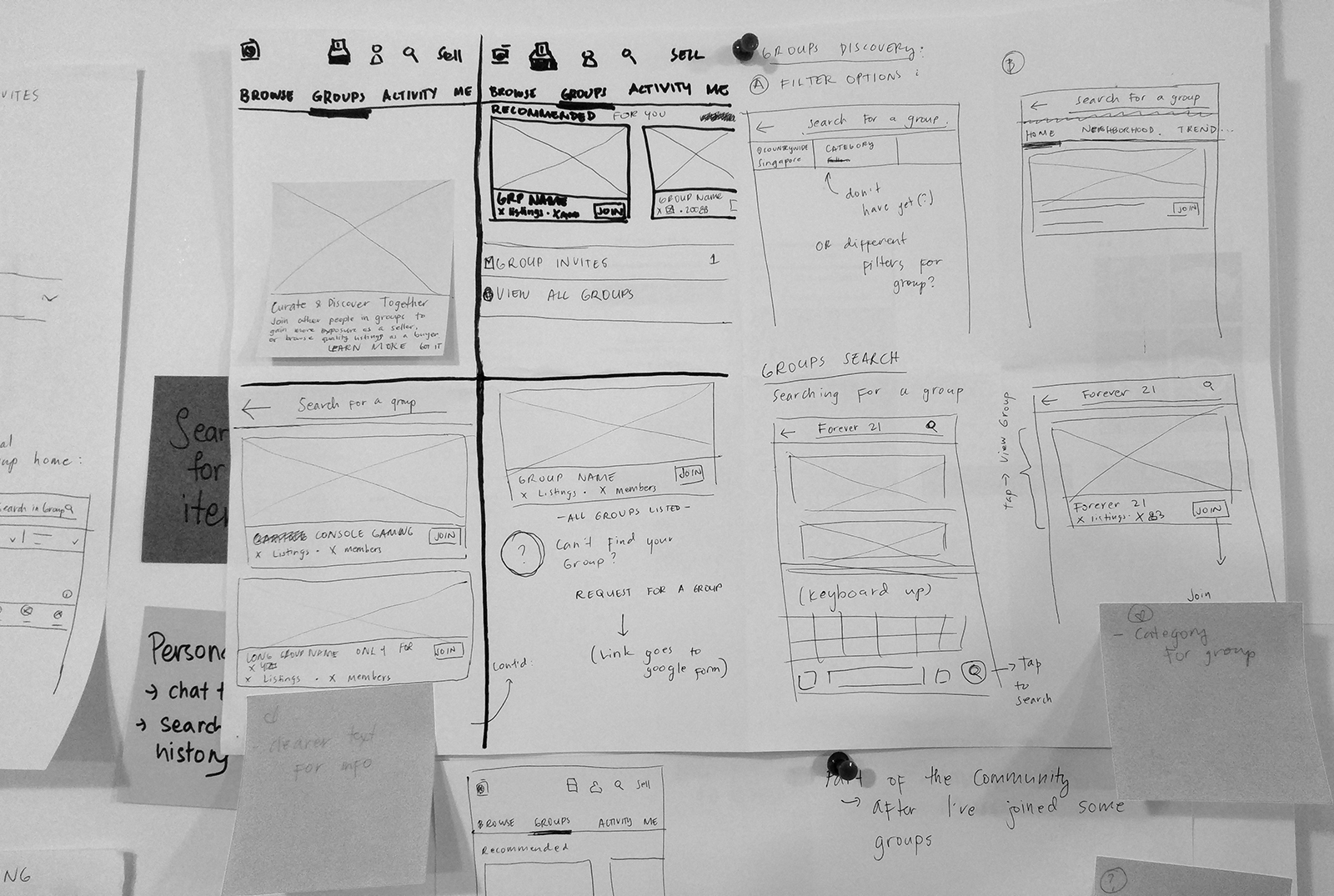 I took the research and ideas we shared with each other to create high fidelity visual designs and went through various rounds of feedback from the product team and engineering team. Once the UI was approved, assets were handed off to the engineers.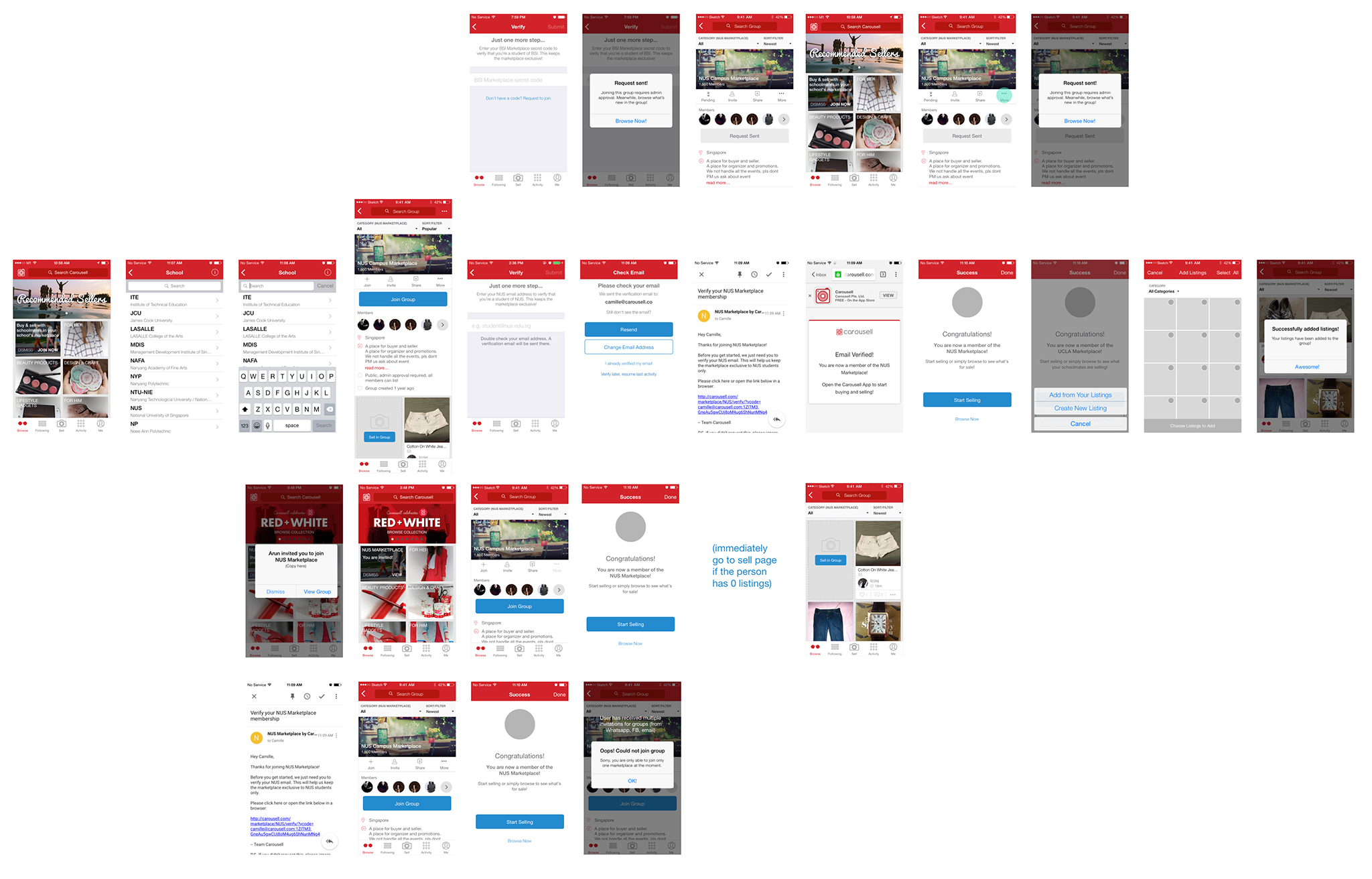 Launch and Evaluation
After launching Groups, the communities were quickly plagued with problems:
Adoption and engagement were low on Groups.
While we were able to track which listings were sold from groups, we were unable to prove that it had any impact on the matching rate for buyers and relevant listings.
Spam quickly overtook all the Groups created on the platform.
The team limited the number of groups listings can be shared in. Public groups became private in an effort to make the communities feel more exclusive, but the seeding methods did little to ignite organic growth and engagement in groups. In a push for adoption, new groups were added regularly but it wasn't catering to a specific user need.
There were a number of factors that affected low engagement with the new feature:
The platform lacked an integration between browse/search on the main platform and the new groups.
The primary interaction present in high-engagement communities was missing from Groups: chat.
Due to the lack of interest and engagement, the subsequent features planned for Groups were never built.
Spam was a problem that plagued the whole marketplace, including Groups.
The feature failed to solve the problem we have identified. Simply grouping similar listings together was not enough for people to connect with each other. It became a "group of listings" instead of a "group of people". Groups became another avenue for sellers that were fueled by the need to have their listings seen, to find buyers as fast as possible. This far outweighed the benefits of a meticulously curated group. It was unable to address the need to connect, to find people 'like me'.
In hindsight, perhaps what the community needed was not 'Groups' but rather 'Group Chat'. What buyers and sellers needed was a means to communicate directly with a wider group of people who shared the same interest. This followed the user behavior seen in the WhatsApp groups formed by Carousell members and other online communities (such as meet-up apps, social apps, and community platforms).
After the project, I realized that I should have pushed for solution validation. The product team should have engaged with other teams (Customer Support and Marketplace Quality) when they raised concerns during the planning phase. Overall, it was a very complex feature with very little impact and eventually became product debt. It influenced how I planned for subsequent features and include problem and solution validation in the process.